A new relationship with Grasmere Gingerbread
Tilly Mint Silver is absolutely delighted to be suppling Fine Silver gingerbread men earrings to Grasmere Gingerbread.
Return to Folksy
Tilly has made a return to Folksy where a limited number of items will be listed on a regular basis.
Etsy and local retailers will remain the main outlets for Tilly Mint Silver items, however in order to offer more outlets Tilly is making a comeback after an absence on Folksy of a few years.
Little Star Rings
Landscape Magazine have very kindly featured my little silver star ring in the December 2018 issue of their gorgeous magazine.
I'm over the moon to have been approached and included in my
favorite read.
Tilly Mint Silver
"On the edge of an ancient woodland, near where the river Troutbeck flows into Lake Windermere, Julie Brockbank shapes delicate silver Jewellery. Inspired by the elemental aspects of silver, which link to the moon and the tides,and by the alchemical transformation from dark metal to gleaming treasure, she creates each piece by hand in her garden studio. The simplicity of each design allows its charm to shine out."
(As written & featured in Landscape magazine October 2018)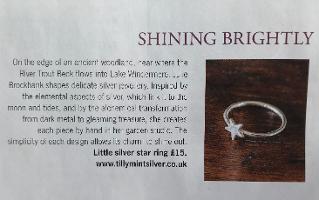 Tilly Mint Silver made a little appearance in the May 2017 issue of House Beautiful Spring Collection.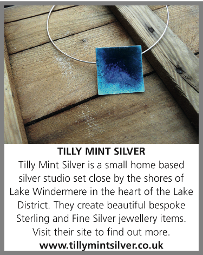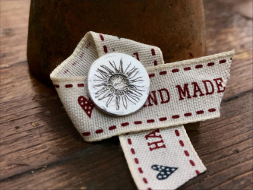 This website and its content is copyright of Tilly Mint Silver2017© Tilly Mint Silver is a Registered Trade Mark All rights reserved.