Julie Brockbank was born and brought up in Manchester until the age of seven when the family moved to the stunning Holehird Estate & Gardens near Troutbeck, Windermere where her father was appointed estate manager.
When Julie was 16, she left school and despite longing for a career in the arts she was guided into catering and undertook a 2-year City & Guilds course in catering.
Living on the Holehird Estate Julie had taken on part time work in the mansion house at Holehird which was until recently a Leonard Cheshire Home for people with disabilities. After leaving catering college at 19 she applied for and was appointed to the role of catering manageress at Holehird a role she held for three years before moving on.
In 1986 Julie married her husband Steve at Jesus Church Troutbeck and moved to the home the couple still live in today at Troutbeck Bridge, just a stone's throw from the Holehird Estate.
From catering Julie moved into care work with the Leonard Cheshire Foundation, a role that that she undertook for eleven years, working with severely disabled persons in their own homes as well as nurturing the couples own two young children Sarah and Tom.
In 1999 Julie's life was turned upside down when she was diagnosed with myalgic encephalomyelitis (M.E / CFS) as her health deteriorated Julie spent almost a year bed ridden and unable to leave the house.
The illness brought about huge life changes and opened her eyes to what is important in life.
Whilst still in recovery from ME Julie returned to education and started out on her long, spiritual and successful career as a Holistic Therapist.
In 2012 an evening course at Dallam School triggered a long-standing desire to return to her childhood love of art, and so quite timely and effortlessly Tilly Mint Silver was born.
Julie often gets asked about the name Tilly Mint …. The answer to that is extremely close to her heart – it's the name her late father would call her as a young girl many moons ago growing up in Lancashire.
When not undertaking her therapy work or hammering silver into creative form, Julie, Steve and their beloved Boxer dogs can be found at their cottage in Glen Affric in the Scottish Highlands.
A love and total respect of nature and the natural world, as well as her many travels around the world all find their way into Julies silver work.
Julie is a keen runner and spends hours on the hills training for half marathons which she runs for charitable causes. Over the last 20 years since her illness Julie has raised thousands of pounds for charities close to her heart, non-more so than the charity she's become actively involved with 'Images of Nepal' a UK charity which educates children in Nepal, a country where Julie and her family have spent a great deal of time both trekking and undertaking charitable work.
Over the coming years Julie plans to spend more time in her craft studio creating new pieces of silverwork and reaffirming her love of art.
Julies favourite quote is from Johann Wolfgang Von Goethe ….
Whatever you can do or dream you can, begin it. Boldness has genius, power, and magic in it.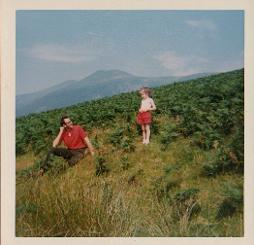 This website and its content is copyright of Tilly Mint Silver © 2017 Tilly Mint Silver is a registered Trade Mark All rights reserved.